History of our mountain hut on the Grossglockner
More than 80 years of tradition
The Edelweisshütte, our mountain hut on the Grossglockner, can look back on a long tradition of over 80 years. The popular destination at the highest accessible point of the Grossglockner Road has been family property since the outset. I, Kurt Lederer, would like to give you a brief overview of the illustrious history of the mountain inn on the Grossglockner.
Popular destination since 1935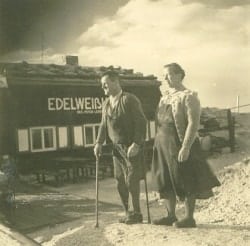 The 1.6 km road to the Edelweissspitze with six turns was built in only 47 days in summer 1934 during the construction of the Grossglockner High Alpine Road under the direction of Franz Wallack from 1930 to 1935. My great-grandparents Peter and Julianna Lederer built the mountain hut on the Grossglockner in 1935. It has been one of this unique road's most popular destinations ever since it first opened its doors. After my grandmother Maria Lederer took over, the alpine hut was turned into a mountain inn in 1968.
Extension and modernisations
My parents Trude and Kurt Lederer took over in 1988 and went to great lengths to extend and modernise the establishment. A further cabin was added to our mountain inn on the Grossglockner Road with rooms with highly modern furnishings to increase our guests' comfort. At the same time, we still managed to retain the traditional ambiance and snugness of our hut on the Grossglockner.

My family and I have managed the Edelweisshütte since 2013. We are fully committed to making your stay at an altitude of 2,571 m an unforgettable one. Would you like to visit us and maybe even spend the night? Best send us an enquiry today!